Everything in its Place
for peace of mind.
Eileen Roth will change
the way you organize your L.I.F.E.™
Eileen's methods have changed the well-being of thousands of customers whose energy is now focused on a productive and effective working environment.
Now you have the chance for her organizational practices to enhance your working days and make them laser-focused.
---
Keeping my life in order with Eileen's simple daily practices has given me peace and happiness in my work and life.
-Karen G.
Meet Eileen Roth, author of one of the most useful organizing books ever written.  Her insights detailed in this timeless book have been the subject of her interviews on The Today Show, Oprah, Fast Company, Real Simple and many other news sources.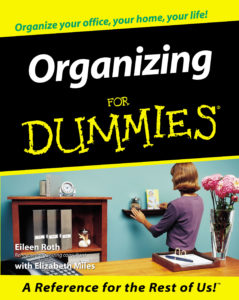 Time is precious.
Let's create custom systems to give you more time in your life.
A Different Approach
You travel on four lanes on the Road of your L.I.F.E.(tm)  These four lanes need organization:
L = Location
I = Information
F = Focus             (scheduling)
E = Eliminate      (time wasters)
Office Organization
Every business is different. Organizing solutions are customized for your particular needs to organize your office and achieve maximum productivity.
Do you have papers all over the place?
Is your computer desktop full of files?
File systems are my specialty, and a problem many people have.  They can't find something because they do not have a good organizing system to store documents, paper and digital.
Home Organization
Where you place items in your home makes a difference.
If you want to find things quickly and save time, you want to achieve the best home organization for your lifestyle.
Besides the fact that your house is physically different from other houses, your family and lifestyle is different from other lifestyles.
Simplifying will allow you to have more free time and give you less stress when everything is in its place.